Elarema Kuomerar (Enterdese: Elārema Kuomerar, English: Adverse Destiny) is an Enterdese popular music band. The band is known for making extensive use of distorted sounds, but also including many symphonic elements. The band was formed in Kuis in 2197 by Verār Kreljat, Shemtau Deo, Uljan Piosek and Ýärim Ásamdän. As of now the band includes 12 members in total.
In 2198 the band released its debut self-titled demo album followed by their first full-length studio album, Rāl'ar Rojamstu (Last Endeavour), in 2199. The band gained most of its popularity after it released its third studio album, Belos (Speed), an instrumental album, in 2202.
In mid-2212 the band announced that a new album entitled Auset fed Avesma (Road to Heaven) was in the works and is set to be released in early 2213.
Discography
Edit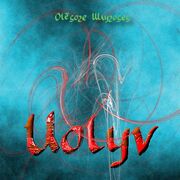 Studio albums
Edit
Band members
Edit
Main line-up
Edit
Symphonic
Edit
Session members and guest musicians
Edit