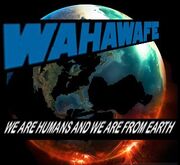 Wahawafe
or
We are humans and we are from Earth
(
Hindi
: हम मनुष्य हैं और हम पृथ्वी से हैं।, Romanisation:
Hama manuṣya haĩ aura hama Pr̥thvī se haĩ
) is a multilingual translation project created by Nikhil Sinha in 2011. The project features a collection of translations in natural and constructed languages of the sentence "we are humans and we are from Earth".
There are currently over 100 translations in natural languages and over 300 in constructed languages, featuring a host of famous constructed languages such as Esperanto, Klingon and Tolkien's languages as well as a large selection of translations in Escodrian languages.
Escodrian languages on the Wahawafe site
Edit
See also
Edit